Dan-Dare.org and Dan-Dare.net "Free Online Fun and Games" Website



(including Disney and Pixar Games and Shrek and Other CG Movie Games)
(Free Flash games based on Star Wars, Sonic the Hedgehog, Shadow, Super Mario Bros., Mario & Luigi, Super Smash Bros., Pokemon, Megaman, Zelda, Scooby-Doo, Tom & Jerry, Bugs Bunny, Simpsons, Ninja Turtles, Power Rangers, Transformers, Batman, Spider-Man, Matrix, Star Trek, Pirates of the Caribbean, Buzz Lightyear, Nemo, Incredibles, Lightning McQueen, WALL-E, Mickey Mouse, Chicken Little, Ice Age, Shrek, Flushed Away, Kung Fu Panda, SpongeBob, Garfield, Betty Boop and many more...)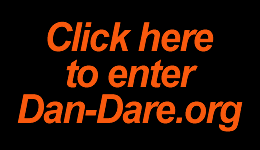 Within this website you will find: A brief introduction to "Dan Dare, Pilot of the Future", Dan Dare galleries, Dan Dare pictures, artwork and very high-resolution images, Dan Dare animated GIFs, Dan Dare mobile phone graphics, free Dan Dare interactive "fun stuff" (Java Applet, JavaScript and Flash online games and puzzles), Dan Dare web links, related Eagle and 2000AD images, and much more besides.
The Dan-Dare.org website is dedicated to the memory of the creator of Dan Dare - Frank Hampson, 1918 - 1985.
Frank Hampson's original version of Dan Dare stars in all-new adventures in the excellent "Spaceship Away" magazine - visit the Dan Dare Spaceship Away website to find out more and to order your copies.
This site also includes pages of images, animated GIFs, free Flash online arcade games and music of some more of my favourites: Star Wars, Harry Potter, Sonic the Hedgehog, Super Mario Brothers, Futurama, Red Dwarf, The Banana Splits, Hanna-Barbera, The Flintstones, Scooby-Doo, Wacky Races, Tom and Jerry, The Simpsons, Megaman and Thunderbirds.
Plus... there are many desktop wallpapers (with more related free Flash online games), inlcluding: Dan Dare, Star Wars, The Clone Wars, R2-D2, Harry Potter, Sonic the Hedgehog, Shadow the Hedgehog, Super Mario Brothers, Super Mario Galaxy, Super Smash Bros. Melee, Super Smash Bros. Brawl, Pokemon, Puyo Pop Fever, Super Monkey Ball, Donkey Kong, Megaman, Crash Bandicoot, Futurama, Red Dwarf, The Banana Splits, The Flintstones, Scooby-Doo, Scooby-Doo Movie, Wacky Races, Hong Kong Phooey, Tom and Jerry, Looney Tunes, The Simpsons, The Simpsons Movie, Thunderbirds, Teenage Mutant Ninja Turtles, TMNT, Power Rangers, Transformers, Transformers Movie, The Matrix, Hellboy, Batman, The Dark Knight, Superman, Spider-Man, The Incredible Hulk, Star Trek, Star Trek Ships, Star Trek Movie, Fast and Furious, Indiana Jones, National Treasure, Pirates of the Caribbean, The Chronicles of Narnia, High School Musical, Toy Story, A Bug's Life, For the Birds, Monsters Inc, Finding Nemo, The Incredibles, Cars, Ratatouille, WALL-E, UP, Mickey Mouse, Winnie the Pooh, The Lion King, Lilo & Stitch, Chicken Little, Meet the Robinsons, Bolt, Ice Age, Robots, Horton, Shrek, Shark Tale, Madagascar, Over the Hedge, Flushed Away, Bee Movie, Kung Fu Panda, Monsters vs. Aliens, Open Season, Happy Feet, The Ant Bully, SpongeBob SquarePants, Catscratch, Danny Phantom, Avatar, The Last Airbender, Naruto, Ben 10, American Dragon, Camp Lazlo, Dexter's Laboratory, Astro Boy, Astro Boy Movie, The Smurfs, Garfield, The Muppets, Casper, Felix the Cat, Betty Boop, South Park, Grand Theft Auto: S. A. and GTA IV.
(You can view some small samples of many of the above wallpapers here: Cartoon and Movie Wallpapers Collection)

Help Comic Relief - play the "Red Lead" game, and then make a donation!

Dan-Dare.org and Dan-Dare.net "Free Online Fun and Games" Website


New Fun and Games Page


(plus the Top 20 most popular games)

Cartoons, Movies and TV Fun and Games Page 1 and Page 2


(including Star Trek, Shrek, Pirates of the Caribbean, Disney/Pixar, Looney Tunes, Scooby-Doo, SpongeBob, Garfield and more)

Dan-Dare.org and Dan-Dare.net "Sonic and Mario Flash and Java Games" Website

You might also like to visit the Dan-Dare.net Website...
(Dan-Dare.org's "sister" site)
Within the Dan-Dare.net website you will find: A complete and illustrated history of Dan Dare, free Dan Dare interactive "fun stuff" (Java Applet, JavaScript and Flash online games, puzzles and toys), Dan Dare pictures, artwork and interactive images, free Dan Dare Windows downloads (wallpaper, screen savers, icons and cursors), free Dan Dare movies, video clips and music MP3 downloads, Dan Dare web links, Dan Dare news group, related Eagle and 2000AD details and images, and much more besides.
For an overview that is primarily focussed on Dan Dare's evil arch-nemesis The Mekon (including a complete listing of the weekly adventures of Dan Dare and The Mekon that appeared in the 1950's and 60's "Eagle", plus details of all the other weekly stories they starred in) why not visit Dan-Dare.net's second "sister" site: DanDare.org.uk. You will also find some complete story reprints and one of the famous Mobil Oil TV adverts there...
Here are some blogs by various members of my family: Life in Thailand, by Sureephon Inns, Life, Stuff and Things,
England, Thailand and Other Things, Mario & Sonic Games News, Flash Online Games News and Peter Inns's Blog
Other web places from the Inns family: Peter Inns's Home Page, Sureephon Inns's Home Page, Anne Inns's Home Page
It has been said a number of times over the years since his first appearance in 1950 that Dan Dare is the "British Flash Gordon", the "British Buck Rogers", is like "Biggles set in space" and more recently is the "James Bond of outer-space". I don't personally agree with those rather simplistic comparisons - enter this website to see for yourself why Dan Dare is totally unique...
Dan Dare Copyright © 2021 The Dan Dare Corporation Ltd
Website Copyright © 2003 - 2021 Peter J. Inns